Above the Weather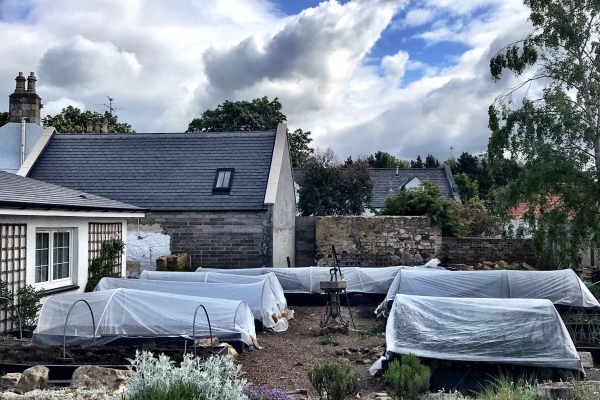 3 May 2019
Forecast of -2 degrees this afternoon dropping to -3 middle of the night meant a stand to for the gardening company and a 'fleeces on' order going out.
"Nair cast a cloot till May is oot" sprang to mind today. For our foreign readers that refers to the "May" or "Hawthorn" bush. "Don't cast off your winter clothes until it's warm enough for the Hawthorn (May) to blossom." and as we know granny is always right.
I read at least 5 different weather forecasts on line last night with a differential of around 4 degrees. I played safe and went for the doom and gloom one to avoid a potential wailing and gnashing of teeth and the 'should I stay or should I go' dilemna that comes when you are snug under the duvet at 3am and look out the window to see the frost starting to form in all it's silvery menace.
I remember I just used to listen to the Met report but now there's so many independents out there with affiliates all taking readings from different weather sites that don't seem to be that reliable sometimes. Googling your post code for weather info is like googling for foldaway futons and getting info on porcelain reindeer back from some search engine on 'random' mode.
Is that really the info relating to my postcode or is it just in a 100 mile footprint? Who do you trust?
Yes we live on an island with fast changing systems and maybe there's too much info around but I seem to remember it was a lot more reliable and when the forecast said 'Winter was coming' – it came!
If it doesn't freeze tonight I will be perversely disappointed but, just like my planted out seedlings under their fleeces in their own beds I'll be snug and warm in mine with knowledge they will be there in the morning and not thinking about the cost of the distant motor of the electric heater in the Orangery.