"A Fish in The Lemon Tree" Stream Out Now! Read the full sleeve notes by Fish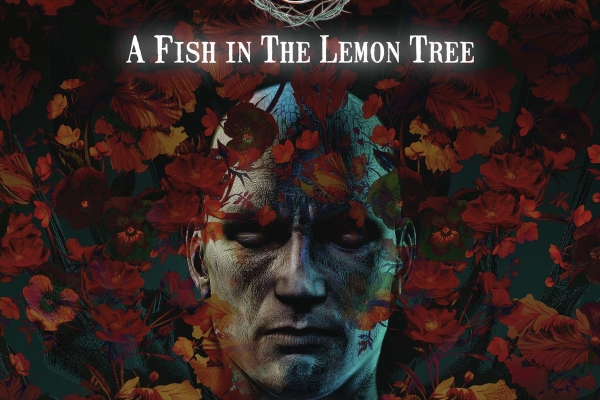 4 December 2020
Listen to "A Fish In The Lemon Tree" stream on YouTube and Soundcloud. If you would like to make a donation, you can do so here.



On the night of Thursday 12th March, the band and crew started to break down the equipment in the rehearsal room at Overhailes Farm where we had been ensconced for the last two weeks. It hadn't been without it's drama as the first 9 days we worked with guitarist John Mitchell who was standing in for our new guitarist Marcel Signor who had flown in from the Netherlands only a few days before to take over on the upcoming tour. John had discovered he had touring conflicts later in the year and as such I couldn't afford to bring in another player midway which would necessitate further rehearsals and readjustments to cope with a new guitarist. John had been an absolute gentleman about it all and had offered to stand in to help us rehearse the set as a band with Marcel joining us on the last week having rehearsed all his parts at home. These rehearsals were to be the only chance we would have to get the set together and prep it for the 50 shows and festivals we had this year.
Getting everyone together with all their equipment for rehearsals is always a challenge and with no offence intended to my friends and work colleagues, often likened to 'herding cats'. Individual travel arrangements, gear pickups and vehicle movements, coordinating diaries and arrivals, buying drum sticks and skins, strings and gaffer tape, fixing equipment, buying replacement or new equipment, picking up hired equipment, wiring, soldering and debugging equipment, it was all part and parcel of the tour set up.
The 'Games' room at Overhailes we had used for the last couple of tour rehearsals and the farm was perfect for us. The self-catering holiday cottages, only a drumstick throw away from the working space provided ideal accommodation for everyone in the band and crew and with no pubs in easy staggering distance and a good Wi-Fi connection there was a positive seclusion that everyone enjoyed. I had booked 3 cottages' all in the quadrangle of the farm steading, everyone having their own rooms and chill space and all arranged to coincide with staggered arrivals and departures of various 'circus' members.
Steven Kent aka 'Radar', our sound engineer and tech chief drove up from Manchester with Billy Hutton our backline tech after picking up gear from various parts of the UK. They would spend the first 3 days setting up the band's equipment in the games room which was big enough to hold another two snooker tables beyond the one that was already there. It was a great size space that I'd been introduced to by a friend who lived on the farm. The room was part of a massive shed that also contained the farm offices and had only been used by the local farmer for family parties and snooker nights with friends. It was perfect for us and the farmer was more than happy to give us his room over to our rehearsals while I rented out the cottages for a couple of weeks during a quiet time.
Having a rehearsal space at Overhailes with accommodation really helped me out. Back in the 90's we had rehearsed here at the Studio and the band and crew had stayed here in the residential block. Now with the Studio our family home and the old house and block sold long ago it's always been a struggle to get rehearsals together and to keep the costs down.
Over the scheduled two weeks I'd managed to pull together immediately before the tour started in Aberdeen we would have to arrange accommodation for and cater for up to 9 people. The guys dealt with themselves during the days in the self-catering cottages but at night after she had finished working in the office my wife Simone cooked for everyone here including her son Liam and my mother who lives with us. She was stretched to say the least.
I bounced around coordinating everything and trying when I could to assist in all the above. I was also dealing with press interviews, promoters, accounts, office duties as well as getting lyrics compiled and trying to find my way in rehearsals. It was difficult to remember some days that I was also the singer and had to get a voice and an act together.
Gavin Griffiths drove up with his drum kit on the Sunday, the night after the crew had set up. John Mitchell, Steve Vantsis and Liam Holmes all arrived at various times on Monday to complete the rehearsal circle and the mike stand would be vacant for the first 3 days as the band sorted out sounds and monitoring and prepared the first songs for run throughs with the elusive singer.
The tour coincided with the 30th anniversary of my first solo album 'Vigil in a Wilderness of Mirrors' and the release of my new and final album 'Weltschmerz'. As such, delays in the writing and recording of the new album had meant it wouldn't be ready in time for the first UK section; we had only finished principal recordings a few weeks before rehearsals began. I'd also intended to have a remastered 'Vigil' album ready for the tour, but licensing issues had bogged me down and the project was on pause. I'd hoped to have everything resolved and the remaster ready for the Autumn European dates but for now on the first twelve shows I'd have no new recorded solo product.
What I did have was the Warner's remaster of 'Script for a Jester's Tear' album which the company had graciously allowed me to sell in advance of the official release date. It could only be sold on the tour merchandise stall and I wasn't allowed to announce it on social media. I didn't know at the time how important a part this release would play in the coming weeks. The irony wouldn't be lost on me.
I drove the 5 miles to rehearsals at Overhailes every day to check up on how things were progressing and to have a catch up and talk through with the band until we could get started on running songs together. There was one subject matter that dominated our conversations, and the first 30 minutes of every day would be spent discussing probabilities.
I'd been aware since January of the developing crisis in China and the outward spread of the coronavirus. By February with more and more cases in Europe and the UK and accelerating it was becoming obvious that this was something a lot more than just the flu virus as a lot of people had tried to reassure us. When the global pandemic was declared in March just as we started rehearsals it was obvious the tour was in jeopardy. I'd held back on buying tour insurance until I found out if I were covered for cancellations, but a letter outlined in red letters from the company declaring they wouldn't cover for any eventualities due to the virus made the situation startlingly clear. I was on my own.
No one knew what was going to happen and we ploughed on through the setlist regardless. I had daily discussions with Mark Shaw, my UK promoter at Gig Cartel, but neither of us had any idea of where this was all going. I held off confirming the printing of the tour T shirts till the end of the first week of rehearsals and had only one shirt with the UK tour dates on. I knew in my head that this wasn't going to go as we had planned and by the second week of rehearsals we were all resigned to playing as many dates as we could before were told to stop.
John Mitchell had completed his stint for which we had all been exceedingly thankful for, Marcel had joined us and the ever bubbly and enthusiastic Doris arrived mid second week to take on her position as backing vocalist. I'd been in the room now every day for a week, my voice was in good shape, I was remembering the arrangements and using the vast spread of lyric sheets on the unused snooker table a lot less.
Dominik, my production manager flew in on the Thursday from Berlin with all the tour itineraries that he had titled 'The Book of Lies'. He had to pick up the tour splitter van in Glasgow and drive over to us as he was driving the band to Aberdeen the next day. Steve and Billy had returned from Manchester for the last days of rehearsals and the load out with their splitter van and Gaelle was now at the Studio counting out the tour merchandise for her own load in to the circus transport. Our house was full of cardboard boxes and flight cases waiting to be packed. I'd be glad to see it all leave.
That night we all gathered here at the Studio for a final meal before our first gig of the tour. The entire evening was overshadowed by the news on the virus and we discussed how we would handle the situation. Our primary concern was our own health and that of others in the troupe and we all understood that we had to rely on and protect each other out on the road. Gaelle, our merchandiser was our main worry as she would be interacting with fans on the stall and in the most danger of picking something up. As we all travelled together it's always a risk even in normal times but with a deadly coronavirus there was a new threat. I sat and talked it all through with Gaelle who already had her own regimen on the stall in place. I'd bought rubber gloves and a stack of hand gels for her and she had anti-bacterial sprays and her own masks. No one was to be allowed to handle any merchandise or try on shirts. The crew had their own gloves, masks and gels and we all recognised we had to keep interactions with people outside the circus to a minimum including those with the house crews. It was all positive and at the end of the night we felt as prepared as could be. It wasn't in our hands now.
I'd elected to drive myself up to Aberdeen on the day of the gig as I had work in the office to deal with and to be honest I didn't want to be sat overthinking in a crowded 'Clown Carrier' for 3 hours. I wanted to lose myself in the driving and duly did so by missing the motorway turn off and adding another 45 minutes to my own journey. My head was full of potential scenarios I was going to have to deal with.
Simone was with me in the car as was Doris. The news on the radio was not encouraging. Nicola Sturgeon, the Scottish first minister announced that as from the end of the next week all live venues would be closed North of the border. I'd just lost the Edinburgh Queens Hall show. The gig was sold out months before and it was the venue where we intended to film the new songs in the set for the Blu Ray on the 'Weltschmerz' release then scheduled for July. It was a blow but survivable. I knew a lot of people were going to be disappointed as many were travelling to the final UK show. Most wouldn't know yet. There were no announcements from the UK government on mass gatherings.
I arrived at the Lemon Tree at 5, just in time for soundcheck. We met some of Doris's band in the carpark and trekked down the steep hill to the venue swapping news we had been hearing on internet music forums. Gigs in Denmark were closed, restricted crowds in Switzerland, France, and Belgium, the Netherlands considering live music shutdown. It was unravelling. Fast.
The dressing room was crowded, and laptops were beaming down the news feeds from various sources. We all hunkered down waiting on Radar to call us to stage for our soundchecks. It was eery. The local crew guys were all great and as always friendly and helpful, but you couldn't but help detect the strained vibe backstage. There was no handshaking or hugs with friends, and I found myself washing my hands and gelling up in slightly manic fashion. Conversations outside our circle were strained and strangers treated with caution.
The check went well, and we ran through a selection of numbers from the set as you'd expect for the first set up where we were in a line rather than the rehearsal circle. I had 2 new faces in the band with Marcel and Liam both on their debut performances. Marcel had only been playing with us for 5 days and under the most pressure. He was a genuine talent, quiet and unassuming and he fitted in well with everyone. We were all nervous. The normally unflappable Gavin was tense and trying not to show it. He had in ear monitor issues and with Marcel not using in ears the sound on the small tight stage was difficult to control with guitar cabs involved. We ran through what we could in the time we had and were reasonably happy when we trudged back up to the dressing room for our meal.
No one went out to the pub before the show and everyone ate the Thai takeaway in house. A sign of the new times we were now living in. We watched the media feeds and waited on show time. No one came into the dressing room and no one left until Dominik called the stage. It was all quite bizarre and surreal. We were already self-isolating as a circus and subconsciously creating our bubble.
We heard Doris's band go down well but when we talked to them in the break they admitted the vibe out front was strange. Doris said that she felt a distance and that people in the crowd seemed detached from the performance. I'd sense the same in a few minutes time.
Heading downstairs (for me a welcome elevator to save my knees) I became immediately aware of differences in attitude. With the public toilets accessible from the auditorium past the entrance to stage there's always an interaction with fans on the way there or the way back as you wait for your cue to go on. It can be annoying sometimes when you are getting psyched for the performance especially when someone asks for an autograph and breaks your concentration. I didn't have to worry. Everyone was staying well away from both me and each other. We didn't need security. This was social distancing in action.
'Weltschmerz' might not be out, but I'd already decided to include a number of the new songs in the setlist and lay them together with material from the 'Vigil 'album. For me it was the closing of a circle. My first and last solo albums played together with some added spice from 'Script' as my first ever album release. It felt like a beautiful symmetry on my penultimate tour.
I'd decided to open with 'Grace of God', first track on the new album and a strong opening statement. The loops and sound effects allowed us to meander on stage and plug in, gather ourselves and ease into playing while Radar collected his sounds and created the picture out front.
Angus Fearful was sorting out the pictures behind us. He'd put together a great set of images for the back-screen projection and was working the new Mark Wilkinson artwork from 'Weltschmerz' with the new digital mixer we had bought just before the tour. He'd flown in from Canada where he lived and worked to re-join the circus and we were glad to have him back with us.
Walking out and seeing the album images for 'Grace' on the screen sent a shiver up my spine. This was all now very real. I felt the pulse of the song and let myself go.
There's always an air of confidence on the edge of arrogance delivering a new song you know is going to make an impact and we had that collectively on our debut in Aberdeen. The reaction qualified the choice and the Lemon Tree that had welcomed us back with an eruption of applause continued to follow us as we burned into an explosive 'Big Wedge', the first offering from 'Vigil'.
'Man with a Stick' although a 'new' song was familiar to most through the 'Parley' ep and tour in 2018 and from great radio support on Planet Rock where it had won UK single of the year in 2019. It paired up well with 'Wedge' and kept up the tempo of the set. So far so good with the setlist.
We were ironing out sound problems on and off stage and a short intro to 'State of Mind' was a welcome breathing space and a chance for me to communicate for the first time. I don't pre plan intros and just refine and tinker with them as the tour goes on. Despite all the gigs and appearances I've made over the years that first time out under the lights with a new set and a new line up can be daunting and edgy and with a global epidemic foremost in everyone's mind I wasn't sure how to play it. I decided to not ignore but not to focus too much on it. I realised quite quickly that everything Doris had told me earlier was correct and I could sense some unease amongst the audience that had nothing to do with our performance. People just weren't relaxed, and some were very conscious of their proximity to others. They were more nervous than we were.
'State of Mind' was a triumph and all the dramatic dynamics of the new version played themselves out to a responsive crowd. The band were impressing and there were a lot of smiles chasing each other on stage as well.
'Family Business' was broody and dark and it's first time out for a while. I'd forgotten how strong a song it was until we played it at Overhailes. The 'Vigil' intro touched on the 30 years of history and the continued relevance of the lyric and I held myself back from overindulging before nervously feeling my way into a testing vocal. It's a song that demands some pacing as it's easy to overshoot early and end up in the 'ceiling 'too soon. Again first time out the box in ages added to the opening night pressure. Everything was going to plan this far in, but we were about to launch the debut performance of 'Rose of Damascus'.
With so many important contributions to the sound required it's impossible to take out session musicians to cover instruments so a lot of sonic back up is supplied by our Roland electronic pads that Gavin triggers while drumming. Gav has probably the most demanding gig in the band as he is not only playing the rhythm with the kit but he is also augmenting the entire performance by triggering acoustic guitar parts, string sections, saxophone solos and backing vocals using his sticks on the Roland pads that we affectionately know as 'Eric'. I don't like having a sound bed with a click track operated from the front desk that everyone follows, and we all prefer to have as much of a 'human' element as possible. There are click tracks but Gavin rides them and cues people and parts in from stage and can react quickly to changes and mistakes. Being on in ear monitors he's often so totally wrapped up in it all it's a rare thing to catch his eye and get a wink and a smile on stage sometimes. When we do catch each other it's always in a good moment. That night he was having a bit of a mare as he only was hearing one side of the stereo mix in his earphones. We were about to begin the epic of 'Rose' and Eric and Gavin were going to be terribly busy for the next 20 minutes.
Calum Malcolm had only finished recording the 'real' strings for the album a couple of weeks before and Steve Vantsis the MD and programmer didn't have the mixed parts to add on to 'Eric'. We only had the demo sampled strings programmed and on the first night for some reason they were only being fed out front and not on stage. I would be singing without the string cues I needed for the spoken word sections. It felt empty, but we had no choice but to soldier on with our internal timings. It was at that point the nerves were fraying as no one apart from us had any idea where this song was going as it moved through the sections. It was a huge demand of concentration from the audience and if they lost that, we lost them. We were leading them into uncharted territory that we had only been in rehearsals. As the sections played out and no one reacted a whiff of paranoia crept in. The spoken word verses in particular were terrifying with no string cues and with all eyes on me I had to seriously hold it together. There was nowhere to hide.
We entered the 'ocean' of the final section, I completed the story, the music faded, and I held my breath. This was our much-heralded epic, a major piece of the album and for a second in the near silence as it drew to a close I thought we had asked too much of them. The applause hit us and the sense of relief on stage was tangible. Huge smiles, nods, and winks. Everything outside that room was forgotten as we knew we had just played something special for the very first time on stage.
Starting up 'He Knows You Know' just wound up the decibels and we launched straight through a powering 'Weltschmerz' and a boisterous' This Party's Over', both debuting with acclaim and assuring regular set inclusion in the future as the audience participation ramped up.
Doris Brendel was proving her worth and was adding sublime backing vocals that both helped me out and brought a wonderful dynamic to the show. She has become somewhat of an integral part of our circus now and I for one love her presence on stage. She was dancing at the Lemon Tree.
The tight low-ceilinged stage had become a sweat box as the night went on and I was slightly wilting after the long drive north and the accumulative mental exhaustion of recent days. I could take a step back at this point in the set as we were about to unveil 'Cliché' for the first in an exceptionally long time. As with all the songs from 'Vigil' there were the necessary key changes to accommodate a voice that was 30 years older and back then I had pushed it into the red zone during the original recording sessions. But this song was dominated by a guitar solo that Frank Usher had made his own. It's so identifiable and so tricky to get the 'feel' as it was originally played that I felt for Marcel who was stepping up with all eyes on him to perform a solo recognised as a classic and an undisputable fan favourite. He was under enormous pressure and having only been with us for around 5 days stepping into the lion's den on his first gig. I went across to reassure him and could sense the nervousness but also the resolve. There was a silence on stage before we cautiously entered the opening guitar phrases.
The voice wavered a couple of times, but we climbed through the verses and then Marcel launched. For a first time out he did a great job and although there would be a couple of hesitant fluffs and trips he held it together and grew in confidence as the solo developed. We were all proud of him and the reaction from the crowd was a huge release for us all but especially Marcel. This was his first set and we all knew that after a few shows he would have it nailed. His playing on the night was impressing everyone.
No sooner had 'Cliché' ended than we were slap bang wallop into 'View from a Hill', one of the most demanding vocal performances of the night. A lot of words in fast tumbling verses with little room to breathe. I was definitely feeling the pinch on this, but the adrenalin and the crowd lifted me, and the band were on fire. It was a great ending to the set, and we left the stage carried on a wave of applause.
It's difficult on a first night to really appreciate what you've done as thoughts tend to be focused on your own performance and how the band clips together. You're more aware of mistakes than anything else and it's hard to just relax into playing and enjoy it all. That all comes a few shows down the road when you can play without thinking and just 'be' on stage.
We still had more to do and first up it was going to be just me and Liam Holmes and a piano. I'd made a stick for my back by choosing 'Gentleman's Excuse Me' as first encore. Again a tricky vocal with nowhere to hide and Liam and I had only run through it a few times in the new key at rehearsals.
Liam had been a real find. After Foss had decided to follow his own calling and leave our circus I was concerned about his replacement. Remarkably it all came together quickly and through Steve and John I was introduced to Liam who had worked with both in various entities. Liam played on the 'Weltschmerz' recording sessions and I was immediately impressed, as were we all, at his abilities. Not only was he a fantastic all-round keyboard player but at the Lemon Tree on our first night he also proved to be quite a consummate showman.
We both stepped out onto stage and took up our positions. I was more nervous than Liam and it showed with a couple of cracks early on. I was very uptight, but Liam held it together and we managed a decent rendition that was appreciated by all. The piano to the fore it had been an obvious choice to segue way into 'Script' and the opening phrases drew a breath-taking reaction from the crowd. I was glad to have them with me as the tiredness that had crept in was showing in some of the 'big notes'. It was a wonderful celebration on the night, and I tripped back for a moment to 1982 and my first shows in Aberdeen.
There was one more number to play and 'The Company' although a stalwart of many a set in the past sat well in its finery as last encore on a night where 'Vigil' was celebrated and sounded as fresh and relevant as ever. It was rousing and triumphant and seemed to have a new energy as the audience picked it up and ran with it leaving us with a roar of approval that we carried backstage to the sanctuary of the dressing rooms.
We were relieved and happy; smiling was mandatory, and hugs abounded. It had been a successful first night and a great warm up for the tour. I knew I had a fine bunch of people round me and that we had a fantastic set that wasn't going to require any tweaking, only polishing, and repeated playing to make it a classic. The new guys had done even better than I had expected and on this first night out it really felt like a band. Dominik was pleased with his first production manager outing and loved both the new set and the band's performance. Radar had conquered the out-front sound and young Billy had dealt with his tech duties well. Gaelle had admirably dealt with an extremely difficult situation and despite the limitations had moved enough merchandise to keep us both happy.
Steve Vantsis who is normally the most critical of all was pleased with the way it had all gone l. Like me he had a host of other duties and being musical director through testing rehearsals and setting up all the programming on Eric as well as learning his own parts had been draining. I could see he was exhausted, but his smile said everything. We had just cleared the first hurdle.
The energies subsided and the load out began. The lap tops spluttered into life and the world beamed into the dressing room with our reality check. Cases in the UK were rising, and news of more deaths and the overall global escalation brought us back to earth. I was told by my old friend Stuart Mitchell who worked at the venue that 150 people who had bought tickets hadn't showed up. It was put down to fans being nervous about the danger of infection in a crowded venue and I would hear later from some with exactly those concerns. I'd noticed from the stage that despite the show being totally sold out there were empty spaces at the back off the venue. This explained why and got me thinking about the next gigs as if the infection rates increased as anticipated then fans would be thinking twice about going out to shows, tickets or not.
The mood changed backstage and we all just wanted to drive back south for what was going to be a day off before we set the circus up in Holmfirth for the second show on Sunday. Band and crew were staying in Overhailes and I was driving back to the Studio with Simone and Doris. We agreed to all meet up there at lunch the next day to discuss what was happening. It was now becoming clear that it wasn't a case of 'If' the tour was going to be cancelled but 'when'. It would be a miracle if we managed to finish the remaining dates especially with the knowledge that Edinburgh as our final show was already gone.
It was a long drive back to Haddington not helped by detours getting out of Aberdeen and a maze of roadworks around Perth that had me flummoxed and confused. The radio was on the entire way and we listened to endless conversations and hypothesis about the pandemic all of which bode nothing well for anyone on the planet.
I pulled into the farm around 4am but was still buzzing from the drive and couldn't sleep. Another dose of bad news on TV before I went to bed. Simone and I had talked long and hard about the situation and she wasn't happy that I was intending to carry on and head out. In all honesty neither was I. The problem was that I couldn't just cancel gigs without government guidance closing venues. I'd be in breach of contract and open to legal claims. Even though everyone was calling for bans on mass gatherings and it was a blaringly obvious decision to be made the UK government were not making it. An announcement the next morning that indoor venues might be closed in a weeks' time didn't help matters. We would be in Brighton, the furthest point from home and halfway through the tour. I talked to my UK promoter Mark Shaw several times during the day and although he was entirely understanding and sympathetic he had the same problem with fulfilment of contracts. The elephant in the room was that if I walked he would have to take legal action against me as the venues would probably take legal action against him. It was an ugly mess.
By late afternoon it was all over. The fan forums had been alighting all day with threads about people unsure of whether to attend Holmfirth and other gigs. As I'd already discovered in Aberdeen more than a few were staying home. Ticket sales in recent weeks had tailed off and big walk ups as we would normally expect in London couldn't be relied upon. I passed this on to Mark who brought up our arguments with the venues. I encouraged him to present my own unwillingness to risk my band and crew as well as my own health and that of our families. Thankfully, common sense prevailed, and the elephants walked out the room.
My band and crew members had staggered in throughout the day and picked up on the unfolding drama. I had been open with them from the start and they all knew there was no insurance and subsequently no wages if it all went down. In all honesty no one was thinking about money. They all just wanted to go home. That was in all our minds.
They would have gone out on the road if I had asked them, but I couldn't endanger either them or their families. We were all going to take a hit but our health and those of others around us was invaluable and had to be protected at all cost.
When the decision was finally made, and I put down the phone to Mark after calling it all off there was a collective sigh of relief amongst everyone in the room. It was visible in my wife Simone's face. She had a tear in her eye.
We began to dismantle the circus. Dominik was cancelling hotels and arranging travel home for everyone who didn't already have transport while I dashed off posts and emails to everyone involved with the tour. The merchandise and boxes of t shirts were loaded back into the garage, the flight cases trundled into containers and were humped between vans destined for band members houses and storage units. The living room was filled with tour debris and equipment.
It was over. It was sad.
Those who hadn't already gone with warm hugs and fond farewells stayed for dinner at the Studio. It was a melancholic evening. The world was changing.
Marcel was last to go and I drove him into the airport with all his equipment. We had no idea when we would see each other again. The drive home was long and lonely.
The two weeks of tough rehearsals and that one night in Aberdeen had shown so much promise. I had a great band a fine circus, a fantastic set list and a special album waiting in the wings. As a warm up it had been a brilliant night and the reviews that followed and which I read over the next days made me both sad and happy. Who could have known then what was going to happen and that this would be the only show we would perform in 2020 and beyond?
One night, one gig, one performance. A little piece of strange history.
A fish in the lemon tree.